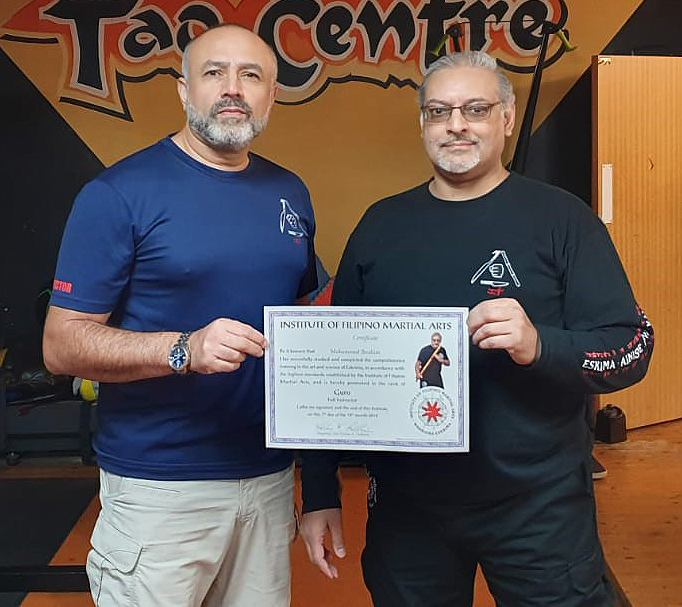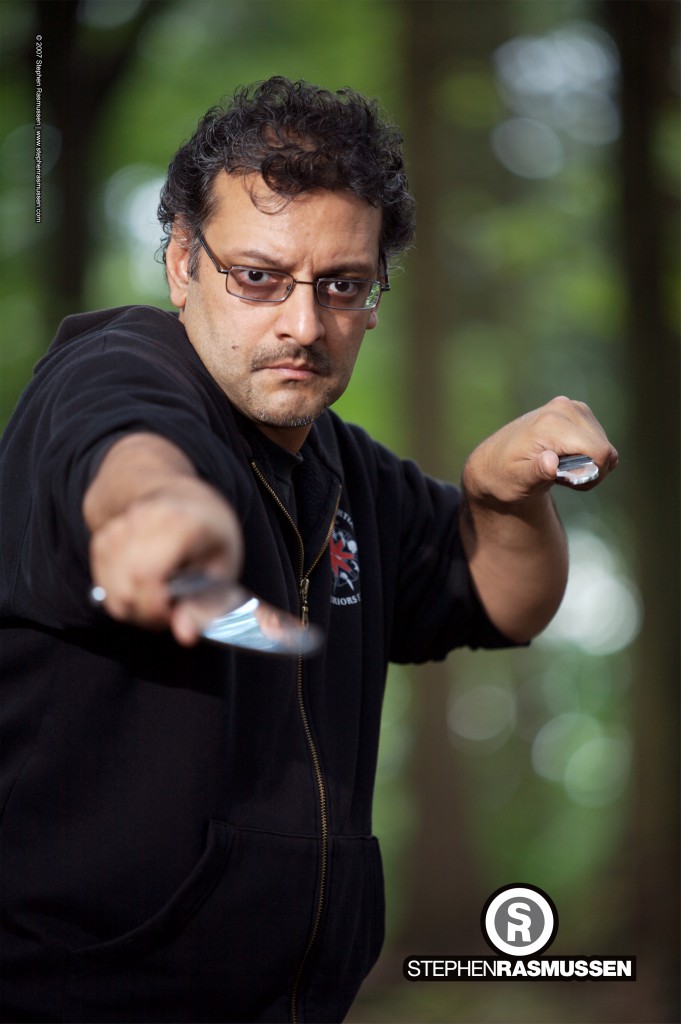 Guro Ibrahim has nearly 40 years of martial arts experience. He began training at the age of 15 and has trained under the tutelage of some of the best martial arts instructors in the world in styles such as Wing Chun Kung Fu, Jeet Kune Do, Ju-Jitsu, Taekwondo, Grappling, and the Filipino Martial Arts.
Guro Ibrahim began his training in Warriors Eskrima in 2000 under Pangulong Guro Krishna Godhania and made several trips to the Philippines since 2005 and trained privately under the tutelage of Grandmaster Abner Pasa, the Founder of Warriors Eskrima and the Institute of Filipino Martial Arts (IFMA) in Cebu City, Philippines.
Guro Ibrahim holds the rank of Guro, Full Instructor in Warriors Eskrima and has been teaching for 15 years.
Pangulong Guro Krishna Godhania has been Guro Ibrahim's principal master, mentor and close friend over the last 22 years of his intensive training in the Filipino Martial Art of Warriors Eskrima.
Guro Mohammed Ibrahim is the Founder and Chief Instructor of Birmingham Filipino Martial Arts Academy (BFMAA), established in 2008.
Warriors Eskrima: Guro, Full Instructor under Pangulong Guro Krishna Godhania / Grandmaster Abner Pasa
Sayoc Kali: Apprentice Level 2 under the late Pamana Tuhon Christopher Sayoc / Guro Krishna Godhania
Jeet Kune Do/Kali: Apprentice Level 3 Instructor under Guro Bob Breen
Member of the British Council of Kali, Eskrima, Arnis Instructors (BCKEAI) since 2012
No Lie Blades: Apprentice Instructor under CEO Hank Hayes
Ju-Jitsu: 2nd Dan Black Belt under Kyoshi Gunars Salders, Budo-Kai United Kingdom Ju-Jitsu Federation
Wing Chun Kung Fu: (20+ years) under Master Abid Mahmood / Grandmaster James Sinclair, United Kingdom Wing Chun Kung Fu Association (UKWCKFA)
Brazilian Jiu Jitsu: Blue belt under Professor Norbert Nowak, Pro Jiu Jitsu
Level 1 Assistant Instructor Yog: under Swami Ramdev Ji-Pantali Yog Peeth (UK Trust)
Practitioner of Hatha Yoga under Tony Wilmot BWY Dip, Sadhanaom Yoga
Other martial arts training includes: JKD Grappling, Kick Boxing, Muay Thai, Boxing, Taekwondo, Shaolin Kung Fu and Olympic Freestyle Wrestling
Specialises in the Filipino Martial Art of Eskrima/Kali/Arnis